See our line up for 2018/19 POWERSTORIES Theatre of Tampa Bay Season !
Powerstories Theatre produces both original and published plays that focus on true stories or "real life" stories for our audiences. We select plays that feature women as playwrights or in lead roles and strive to create theatre that opens hearts and minds.
The true story of eleven WI members who posed nude for a calendar to raise money for the Leukemia Research Fund.
Oct 4 - 29, 2018
When Annie's husband John dies of leukaemia, she and best friend Chris resolve to raise money for a new settee in the local hospital waiting room. They manage to persuade four fellow WI members to pose nude with them for an "alternative" calendar, with a little help from hospital porter and amateur photographer Lawrence. The news of the women's charitable venture spreads like wildfire, and hordes of press soon descend on the small village of Knapeley in the Yorkshire Dales. The calendar is a success, but Chris and Annie's friendship is put to the test under the strain of their new-found fame. Based on the true story of eleven WI members who posed nude for a calendar to raise money for the Leukemia Research Fund, Calendar Girls opened at the Chichester Festival Theatre and has since become the fastest selling play in British theatre history.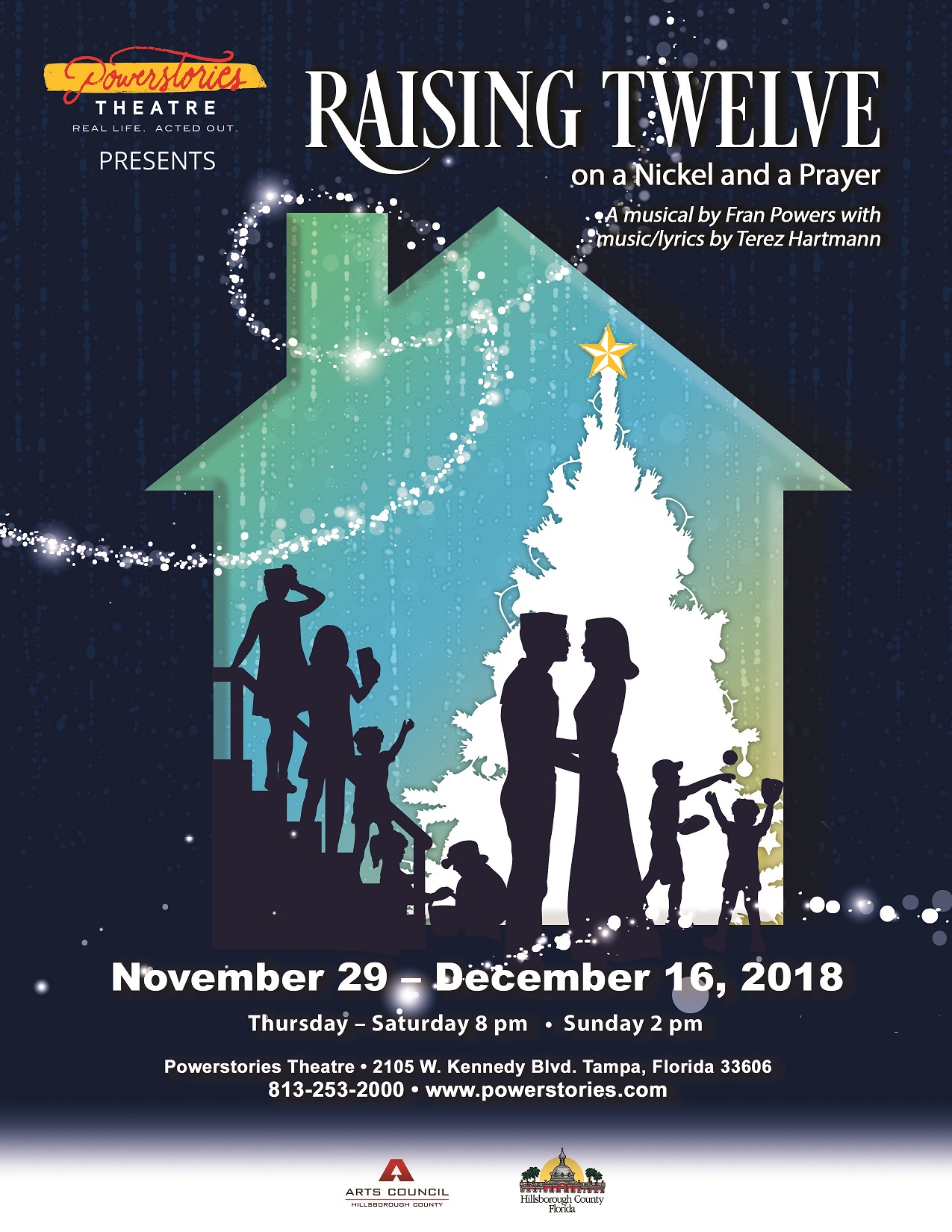 A musical by Fran Powers with music/lyrics by Terez Hartmann
Nov. 29 - Dec 16, 2018
It's the week before Christmas, 1950 in San Diego California. Betty, a single mother, is working as a waitress to put food on the table for her two young daughters. As she is serving lunch, Harold, a sailor walks in the door to order the "Workingman's Special" of roast beef and mashed potatoes. At that moment, these two strangers are connected. Harold asks Betty one important question and the answer starts their life journey together. Twelve is the love story of one woman's quest to fulfill her dream of having a large family and the man who supports her through many ups and downs.
This is an original play with music and is based on the lives of Betty and Harold Taylor, the parents of author Fran Powers.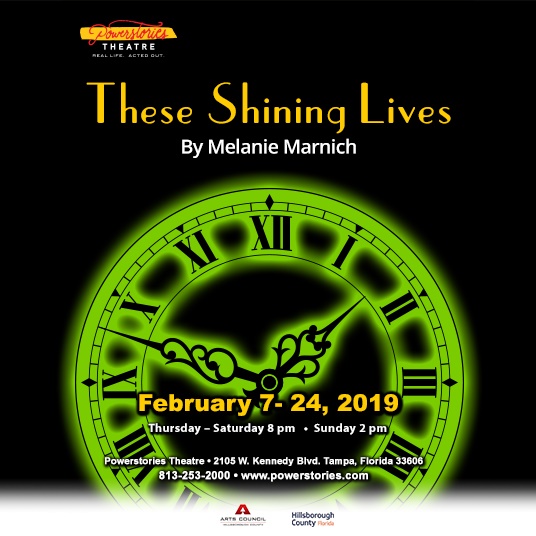 February 7 to 24, 2019
THESE SHINING LIVES chronicles the strength and determination of women considered expendable in their day, exploring their true story and its continued resonance. Catherine and her friends are dying, it's true; but theirs is a story of survival in its most transcendent sense, as they refuse to allow the company that stole their health to kill their spirits—or endanger the lives of those who come after them.
More information to come
March 7 to 23, 2019
May 2 to 19, 2019
A play of monologues and ensemble pieces about women, clothes and memory covering all the important subjects—mothers, prom dresses, mothers, buying bras, mothers, hating purses and why we only wear black. Based on the bestselling book by Ilene Beckerman.
"Funny, compelling…Brought down the house…but [the play] is not a comedy: A story about black cowboy boots becomes a sad tale of being underappreciated in a relationship; a tale of two women shopping for their wedding outfits ends bittersweetly; and the recollection of a new bra is a quiet testament to a women's search for dignity while undergoing treatment for breast cancer." —NY Times. "So funny and so powerful; so dear and sweet; so remindful of our female wiles, our worries, our insecurities, our remembrances of mother, father, sisters, brothers, lovers—I think it can't miss." —WowOwow.com.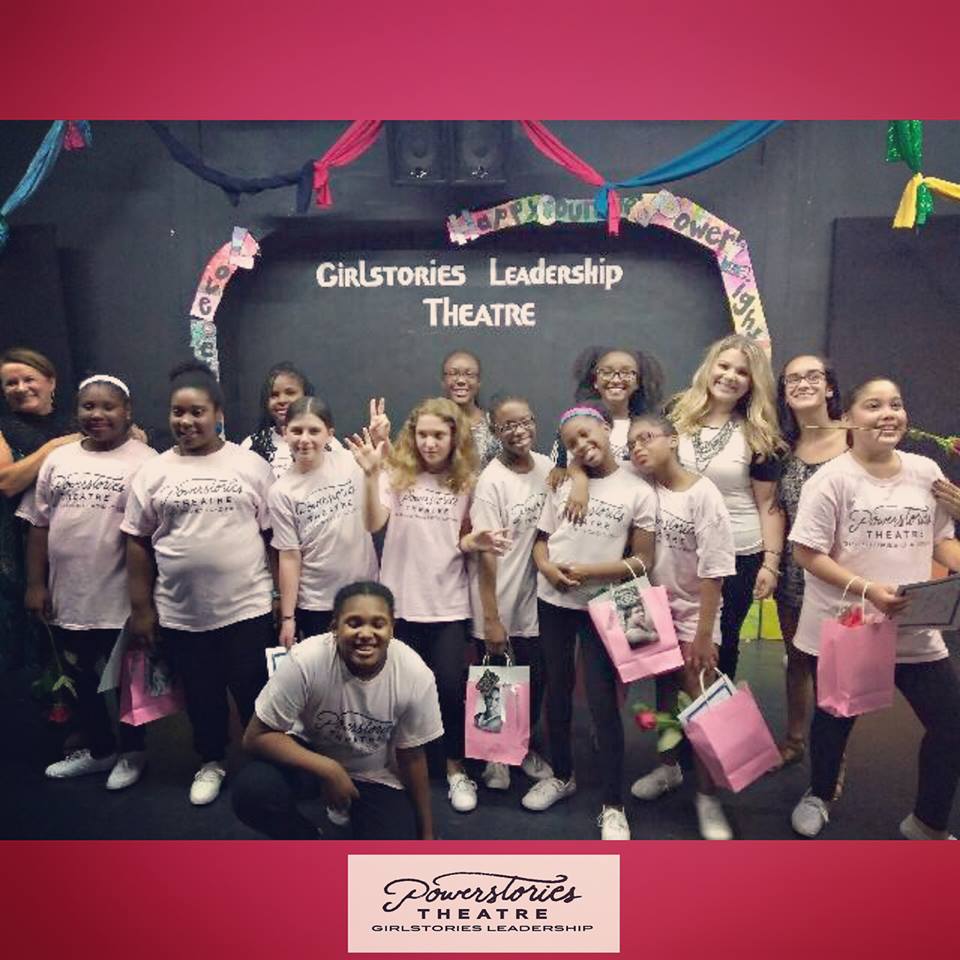 Summer 2019
More information to be announced
July 10 to 21, 2019
The Ghazi's, Sanchez's, Jackson's and Smith's are next door neighbors in the suburbs. The audience follows the conversations that each couple has about their lives, families, pasts, futures, and their neighbors. The most comical conversations always seem to happen in bed.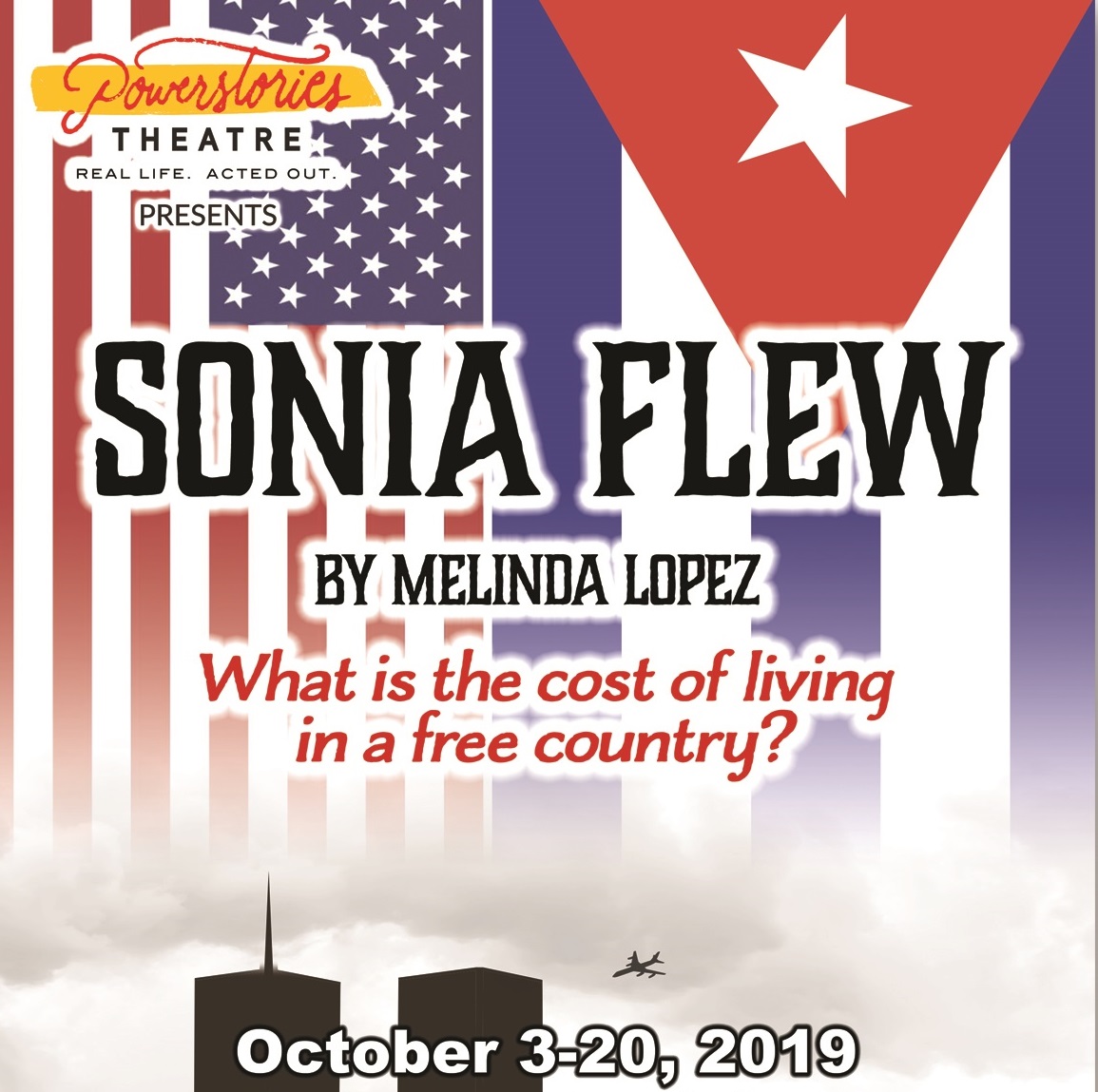 October 3 to 20, 2019
Sonia's parents, fearful of the new government, sent their only daughter from Cuba to the United State in 1961. Set in Minneapolis and Havana, a story of family unfolds across the generations as Sonia — now raising two children with her Jewish husband — struggles to come to terms with her past, her lost parents, her own children, and her adopted country.
Individual Tickets: $25.00 / $20.00 for individuals age 65 and older.
Group Tickets: $20.00 each for groups of 10 or more.We encourage you to see all of our shows by purchasing a Flex Pass 
All tickets can be purchased at www.powerstories.com or by calling Powerstories Theatre at 813-253-2000. Discounts are provided for individuals age 65 and older and for groups of 10 or more.  Email Fran@powerstories.com
Use the fields below to edit content on this page.