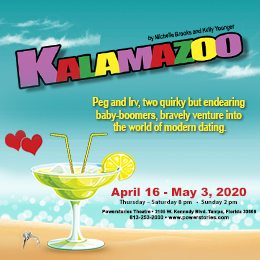 AUDITIONS
Powerstories Theatre
KALAMAZOO by Michelle Kholos Brooks and Kelly Younger
Location:  Powerstories Theatre, 2105 W. Kennedy Blvd., Tampa, FL  33606
Audition Dates: Sunday, January 26 with callbacks on Monday, January 27
Production Dates: April 16 – May 3, 2020, Thursdays, Friday, Saturday at 8 pm, Sundays at 2 pm.
Director – Bridget Bean
Non-Union. Actor Stipend.
Peg and Irv, two quirky but endearing baby-boomers, bravely venture into the world of modern dating. But when these opposites attract, they discover love isn't any easier the second time around. Winner of the Riva Shiner Comedy Award, KALAMAZOO is a romantic comedy about life's second act and learning you're never too old to be young. Play contains adult language and situations.
Seeking 2 actors, 1M, 1F, in their 70's.
PEG Female, 70's, Irish-American. Sweet and naïve but not dumb, nor a shrinking violet. She doesn't have a mean bone in her body but sometimes makes off color or anti-Semitic remarks. Peg isn't afraid to stand up for herself. She's an innocent in a complicated world.
IRVING Male, 70's, East-Coast Jewish. A self-made man and a funny guy, but not a borscht-belt comedian. His veneer can be a little abrupt, but underneath he's an open, tender-hearted man. He's an explorer in a new world.
AUDITION REQUIREMENTS
·         TO SCHEDULE AN AUDITION TIME PLEASE EMAIL YOUR HEADSHOT AND RESUME TO BRIDGET BEAN writetobridget@gmail.com with the word KALAMAZOO in the subject line.
For the audition, please prepare a one-minute contemporary monologue. You may also be asked to read from the script.