6 tickets for $100 (usually $150)
You can save $50 if you purchase before October 15, 2016
(After expiration date, 5 tickets for $100, you will still save $25)
Announcing the 2016-17 POWERSTORIES Season!
Powerstories Theatre produces both original and published plays that focus on true stories or "real life" stories for our audiences. We select plays that feature women as playwrights or in lead roles and strive to create theatre that opens hearts and minds.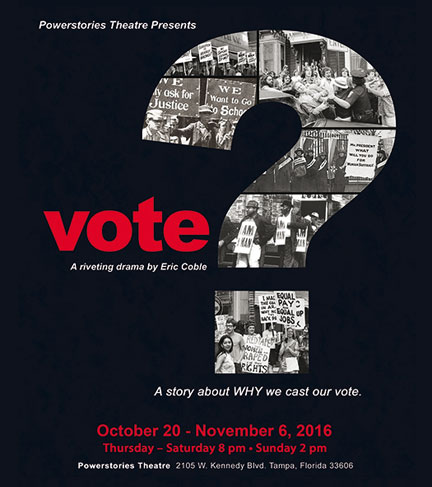 A riveting drama by Eric Coble
Oct.20 - Nov.6, 2016
Election Day. Eighteen-year-old Nicole Harrison registered to vote when she got her licence but has no intention of casting her ballot today. Why bother? Too many better things to do. As her friends argue about the worth of trying to voice any opinion, Nicole suddenly finds herself slipping into the freezing cold. And in the blink of an eye, she's right in the middle of Valley Forge in January 1778. Nicole fights to return to her own time while her compatriots battle for the very right she so casually dismisses. Sliding through time and historical events, standing beside women, minorities and young people all demanding their rights, Nicole discovers just how many shoulders we're standing on every time we step into a voting booth.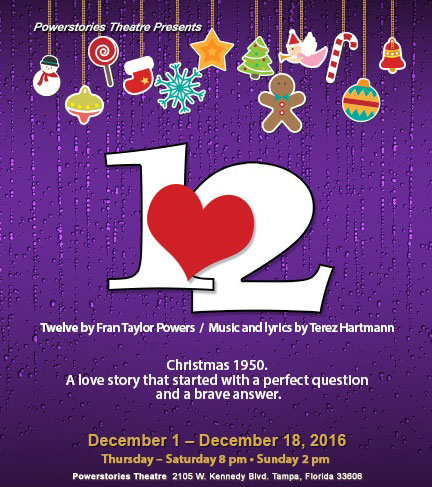 A story of love and family by Fran Powers. Music and lyrics by Terez "Firewoman" Hartman
Dec.1 – 18, 2016
It's the week before Christmas, 1950 in San Diego California. Betty, a single mother, is working as a waitress to put food on the table for her two young daughters. As she is serving lunch, Harold, a sailor walks in the door to order the "Workingman's Special" of roast beef and mashed potatoes. At that moment, these two strangers are connected. Harold asks Betty one important question and the answer starts their life journey together. Twelve is the love story of one woman's quest to fulfill her dream of having a large family and the man who supports her through many ups and downs.
This is an original play with music and is based on the lives of Betty and Harold Taylor, the parents of author Fran Powers. Play spans sixteen years.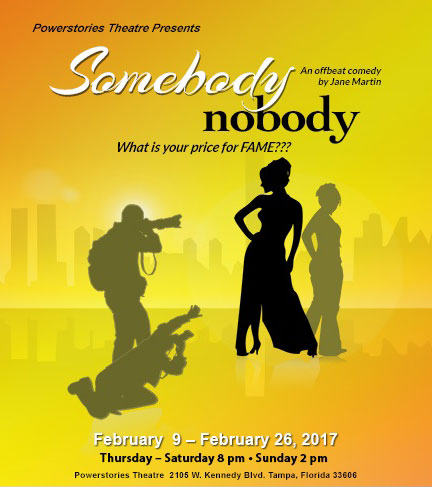 An offbeat comedy by Jane Martin
Feb. 9 – 26, 2017
So you think you want to be famous? So did teen idol and "B-movie" star Sheena Keener, the darling of the press, the obsession of the paparazzi, and the Goddess of the 'E! Channel'. But now she can't stand to be looked at anymore and her Godzilla of an agent is on the warpath.
When Sheena ends up on the doorstep of naïve newcomer Loli, a recent arrival from Flatt, Kansas, it's a wild ride on the road to fame. Sheena is a somebody who wants to be a nobody. Loli is a nobody desperate to be a somebody. In this hilarious comedy about Hollywood, fame, and the TMZ, renowned playwright Jane Martin takes dead aim at our culture of celebrity.
A powerful drama by Deanna Jent
Apr.20 – May 7, 2017
FALLING boldly explores the dynamic and complicated reality of a family with an autistic young man. When a relative comes to visit, the entire family is thrown out of equilibrium, with everyone trying to balance what is best for the family and what is best for them. The play bravely speaks a truth about love and family and about hopes and dreams. It asks, "How do you love someone who is difficult to love?"
"This heartfelt and nuanced family drama is shot through with dark humor. FALLING soars. The play packs a powerful punch." —NY Post. "Graceful writing. [FALLING] teaches you something and leaves you sated—and it rocks. Packs a huge emotional punch." —NY Observer. "FALLING sinks deep under your skin. Sharp and observant." —NY Daily News. "Audiences will be falling in love with this extraordinary piece of theater." —TheaterMania.com.
Use the fields below to edit content on this page.