6 tickets for $100 (usually $150)
We will be announcing the full line up for 2017-18 POWERSTORIES Theatre of Tampa Bay Season soon!
Powerstories Theatre produces both original and published plays that focus on true stories or "real life" stories for our audiences. We select plays that feature women as playwrights or in lead roles and strive to create theatre that opens hearts and minds.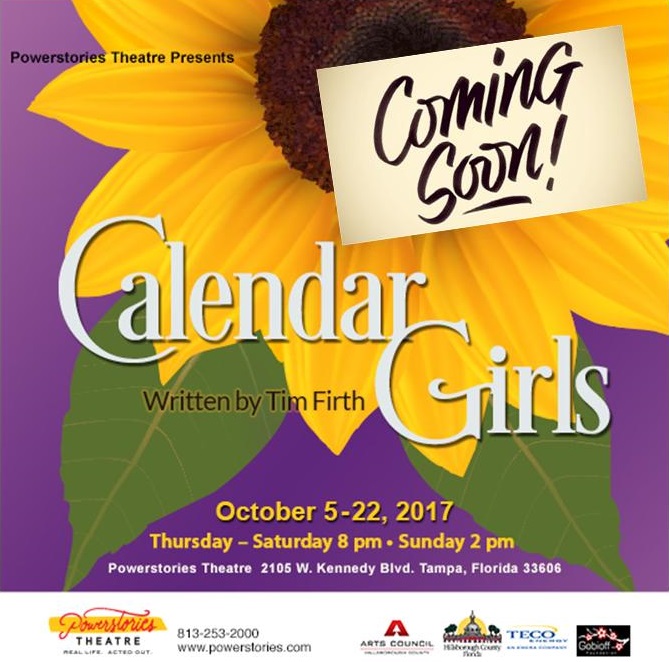 October 5-22, 2017
When Annie's husband John dies of leukemia, she and best friend Chris resolve to raise money for a new settee in the local hospital waiting room. They manage to persuade four fellow WI members to pose nude with them for an "alternative" calendar, with a little help from hospital porter and amateur photographer Lawrence. The news of the women's charitable venture spreads like wildfire, and hordes of press soon descend on the small village of Knapeley in the Yorkshire Dales. The calendar is a success, but Chris and Annie's friendship is put to the test under the strain of their new-found fame. Based on the true story of eleven WI members who posed nude for a calendar to raise money for the Leukemia Research Fund, Calendar Girls opened at the Chichester Festival Theatre and has since become the fastest selling play in British theatre history.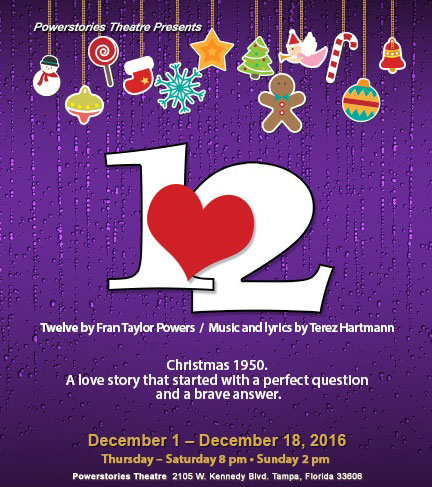 A story of love and family by Fran Powers. Music and lyrics by Terez "Firewoman" Hartman
November 30 – December 17, 2017
It's the week before Christmas, 1950 in San Diego California. Betty, a single mother, is working as a waitress to put food on the table for her two young daughters. As she is serving lunch, Harold, a sailor walks in the door to order the "Workingman's Special" of roast beef and mashed potatoes. At that moment, these two strangers are connected. Harold asks Betty one important question and the answer starts their life journey together. Twelve is the love story of one woman's quest to fulfill her dream of having a large family and the man who supports her through many ups and downs.
This is an original play with music and is based on the lives of Betty and Harold Taylor, the parents of author Fran Powers. Play spans sixteen years.
Use the fields below to edit content on this page.